Schnitzel n Tits is undoubtedly a unique night out in Melbourne. We owe our popularity to the fact that no-one offers our particular blend of quality pub grub, hot girls and high octane entertainment. Whilst there's no theatre restaurant quite like ours we do belong to what's known globally as the Attentive Service Sector (ASS). More specifically the booby restaurant scene known as Breastaurants.
Now Dat ASS is getting bigger every year! And the fine fellowship of the funbag flaunting Breastaurant scene now includes an amazing array of themes, food and beautiful  waitresses ready to serve you!
The term "breastaurant" surfaced in the 1990's to describe restaurants staffed by lovely ladies in skimpy outfits. Let's start with the first household name in breastaurants that became popular at the same time…
The Breastaurant Business: 8 Of The Best
Hooters Restaurant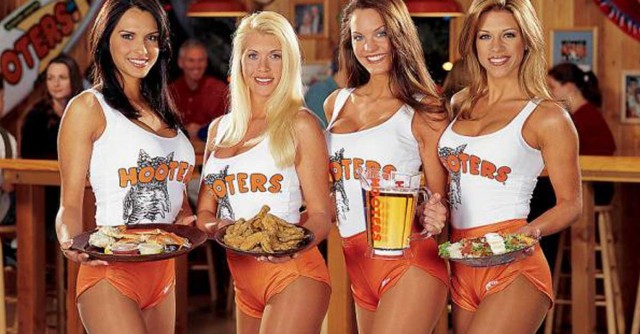 While Hooters Restaurants, or more so the hot Hooters girls became famous in the 1990's, it was all started back in 1983 by 6 businessmen. Their goal: start a restaurant they couldn't get kicked out of. Now there are Hooters restaurants in 29 countries including our own Australian Hooters on the Gold Coast. Still rocking the retro gym shorts in style over 3 decades later, good on you Hooters girls!
Bikini Sports Bar & Grill
These guys may not have coined the term Breastaurant but they trademarked it in 2012. Waitresses get around in bikinis and pointy toe cowboy boots.. for rowdy customers' nuts? This chain of restaurants in Texas actually bought a ghost town and renamed it "Bikinis, Texas".
Show Me's Topless Restaurant
This breastaurant was founded in Missouri which is known as the 'show me state'…Just what Missouri wants to show me or me to show it is still unclear to this blogger. Show Me's website makes some specific claims about their 'model quality' waitresses and their lives outside of work: ' 60 to 70% college students..70 to 80 % cheerleaders or former cheerleaders and aspiring models'. Whatever their CVs I reckon these girls could show me a good time!
Bone Daddy's House of Smoke
This Southern Barbecue restaurant calls its waitresses 'Daddy's Girls' #notcreepy.
Bone Daddy's House of Smoke, you guessed it, serves up delicious smoked meats from messy smoked wings to pulled pork, even beer can chicken. Another great Texas breastaurant chain and another reason to visit the Lone Star State.
The Tilted Kilt Breastaurant
This one has a Celtic theme..for that authentic Scottish council estate feel they serve cans of beer in a paper bag!
Twin Peaks Breastaurant
Tagline 'eats, drinks and scenic views' – this one is going for the ambience of a mountaintop logging town. Twin Peaks identifies itself as a "sports lodge" and is said to be the rival for Hooters in the United States.
Cowgirls Espresso/Bikini Espresso
Not strictly speaking a breastaurant but we thought they should get a guernsey for adding more 'pick me up' to your morning than an extra shot.
Brick House Tap & Tavern
Everybody! "She's a Brick..da na na na..Howwse". The classic Commodores tune from 1977 has spawned a restaurant. The Commodores were singing about black chicks with more ample proportions than these svelte beauties but as long as the "lady's stacked, that's a fact, ain't holdin' nothin back"  we approve.
Actually, they're holding something back – Brick House has been called a subtle Breastaurant because the uniforms aren't outrageously sexy and it attracts a mixed crowd.
 Mugs N Jugs Breastaurant
Looking rather retro in this shot – Mugs n Jugs in Florida specialise in chicken wings and Karaoke..the girls might make the singing bearable. No list of breastaurants would be complete without..
Why Melbourne's Breastaurant Schnitzel n Tits is the best….
If you're looking for Melbourne's best topless bar & restaurant, you can't go past the iconic Schnitzel n Tits. No other breastaurant gives you
Bodyshots – your chance to get up close and personal with the babes serving your food
Showgirls – performing raunchy after dinner routines and getting guests of honour involved
Breasts serving breast – our famous golden chicken breast schnitzels are delicious!
Topless Waitresses – they may start the night in a low cut costume but that's not how they end it!
So Much Fun – with our audience games, prizes and crowd participation hijinks.
And now Schnitzel N Tits Saturday Night Sister – Burgers n' Babes
Hearty Burgers – Beef, Chicken and Veggie, all with sizzling seasoned chips
Wild Waitresses – Hot babes in skimpy diner style uniforms which come off as we kick on..that's right more topless waitresses!
More of the Bodyshots, Beer, and Boob related games and rowdy ambience we perfected with Schnitzel n Tits
A particular focus on memorable bucks parties, birthday celebrations and mates nights out
The Americans may have coined the term, but Australia does the Breastaurant best!